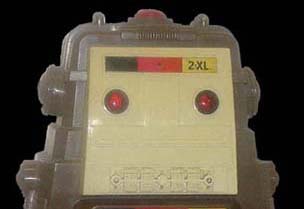 2xl 2XL

Press A to learn about all the different types of 2-XL robots, and the programs that go with them.

Press B (the More Information button) for more information about 2-XL, including:
...and lots more extra stuff about 2-XL!

Press C to learn about other robots Dr. Freeman has invented, including the newest member of the family, Kasey the Kinderbot!
Please push A<!- Wait until he says NOW or you will PAY!!! ->, B, or C, Now.
To return to Platypus Power, push the Question button.
---
TIPS FOR NAVIGATING THE
"WORLD OF 2-XL" WEBSITE
On nearly every page you will find a guide robot (a 2-XL or a Kasey the Kinderbot) in the upper left corner. You can always click on their buttons to take you to new pages in whatever topic you've selected. In most cases, the Question Button will take you back to the previous index page you just left.
Kasey the Kinderbot also has an orange HOME button located underneath his screen, which will also usually take you to the previous index page you just left.
If you leave your mouse on any button, a guide will pop up to tell you where that button goes. These are also listed under each guide robot for your convenience.
If at any time you got lost or confuuuused (as 2-XL would say), just go to the Site Map at the bottom of every page. This will take you to a listing of ALL the pages in the World of 2-XL site, and you can go directly to any one of them.
Thanks for coming, and enjoy!
---
SO WHAT'S ALL THIS FUSS ABOUT "KASEY THE KINDERBOT" ON A 2-XL SITE?

Most simply put, Kasey the Kinderbot was the most recent incarnation of 2-XL! Like 2-XL, Kasey was invented by Dr. Michael Freeman, asks questions, has 4 buttons on his chest, and operated on different programs. Since Kasey the Kinderbot is a direct descendant of 2-XL, I have including news on Kasey here as well!
---

FAQ QUICK JUMPS