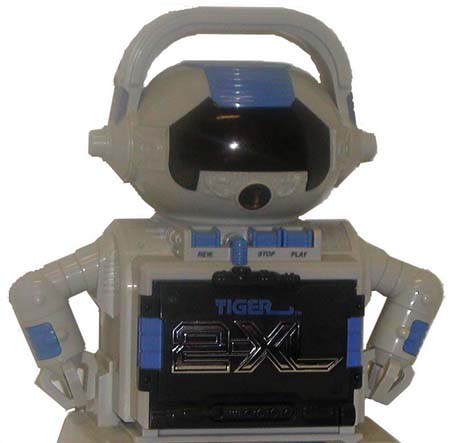 Press A to learn about theTiger 2-XL Programs.

Press B (the More Information Button) to learn about the Tiger 2-XL Type 3's TV Show "Pick Your Brain".
Press C to view images comparing the Tiger 2-XL and the Mego 2-XL.
Please push A, B, or C, or Now.
To return to the 2-XL Robots & Programs Index, push the Question button.
You have selected B:
Tiger 2-XL Type 3
In 1992 Tiger Electronics re-introduced 2-XL to the world. Dr. Michael Freeman was still writing the programs and providing 2-XL's voice, but this new 2-XL had a much harder attitude than his older "brother." Push that question button without being told to and he really let you have it! But this was most likely due to the fact that almost all the programs were double-length programs now, so messing around with the buttons was more likely to make you switch into the other program. It was great to have 2-XL back, and talking about current things (for the time, anyway) like Captain Picard and the Teenage Mutant Ninja Turtles.

The new 2-XL came with a new look for the 90's. His new body design featured much more pronounced arms than his predecessor. The eyes still lit up like the old Mego 2-XL, but they flashed in a steady pattern, and he now had a mouth light that blinked in time with what he was saying (like the previous Mego Type 2's eyes had done). The biggest change, of course, was that he no longer ran on 8-Tracks (a joke by the early 90s) but now ran on standard audio cassettes. By recording different tracks on the right and left channels of both the front and back sides of the cassette simultanously, Dr. Freeman was now able to do the same things he had done with the four tracks of an 8-Track tape over a decade before. The added bonus to this was if you put a regular cassette into it and pushed the B or C buttons, you would hear it played backwards! Another major change was that he could now run on batteries! In the old days he was AC only; if you wanted to take him with you on a camping trip, you had to have a mighty long extension cord! Now you could easily just grab him by his conveniant handle on the top of his head and carry him around with you as he talks. Not to mention a headphone jack for listening to 2-XL without interrupting anyone else in the house. All this, and at 3" shorter than the old 2-XL units as well!

An interesting achievement was that 2-XL got his own TV show at this time, a game show called "Pick Your Brain," with Mark Summers. This show featured a giant 2-XL (this thing must have been at least 10 feet tall) that helped give the topics to the kid contestants. The producers wanted to bring Dr. Freeman in to do the voice for the show, but for some reason that didn't work out, so instead they brought in voice actor Greg Berg as a replacement voice. More information on this show can be found in the More Information Button: 2-XL on TV section.

The Tiger 2-XL was also the winner of the 1992 Walt Disney Co. Family Fun Award for Best Learning Toy! Click on the image on the left to take a look at the award!