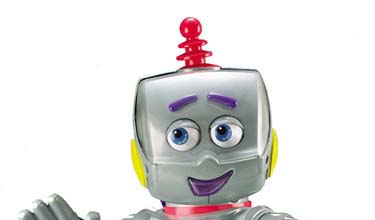 Press the BLUE Button to learn about Kasey's Programs and NEW STUFF for 2004!.

Press the YELLOW Button to view images of Kasey.

Press the GREEN Button to visit the Official Kasey the Kinderbot website at Fisher-Price.com and try a playable demo of Kasey! (You'll need a Flash plug-in for it to work.)
Please push the BLUE, YELLOW, or GREEN Button, Now.
To return to the 2-XL Robots & Programs Index, push the RED button.
To return to the Other Robots by Dr. Freeman Index, push the HOME button.
You have selected C:
Kasey the Kinderbot
The Third Generation of 2-XL!

To quote Doc Brown, "You can't keep a good inventor down!"

It's no surprise that with the current "80's revival" boom going on that toy companies have also been interested in bringing back 2-XL. This time Dr. Freeman has opted to go with Fisher-Price, one of the most well-established toy comapnies in the business. The result is a complete redesign of the original concept -- Kasey the Kinderbot.

Like 2-XL, Kasey has four buttons on his (her?) chest for direct interaction and operates on different cartridges for different programs about a variety of different topics. But gone are the old tapes; Kasey is 100% solid-state electronics. In addition, he now has an LED monitor to show you images with the questions, and he moves his head, arms and swivels at the waist!

As you would expect being from Fisher-Price, Kasey is aimed at the youngest group yet: preschoolers from ages 3 - 7. There are still questions and answers, but those are just a part of a huge arsenal of learning and interactive tools, including games using the LED screen, singing and dancing. By using electronic cartridges and not being limited by analog tape, the programs are no longer as linear as the old 2-XL programs; kids can go from section to section whenever they feel like it, exploring each section for as little or as long as they wish. When my (almost) three-year old daughter started playing with hers, she was doing the Hokey Pokey with Kasey for nearly an hour!

Kasey's personality is definitely far different from the 2-XL we grew up with, although at times you can see shades of 2-XL sneak through. (For example, after not pushing a button, Kasey cleared his throat and re-emphasized "Please push one of my buttons, NOW" in that "stop fooling around with me" tone 2-XL would get.) Another important difference is that for the first time the robot is not using Dr. Freeman's voice; Kasey's voice is provided by voice over talent Kamala Kruszka, who has also done the voices of other Fisher-Price toys. Fans of the original 2-XL without children of their own may not be able to relate to Kasey, but speaking for those of us who do, I feel Kasey is a worthy successor to pass on to our next generation.